New Fences Dallas and Fort Worth Construction and Quality Repairs
by Experienced Professionals Texas.
We Provide Every Customer With Excellent Workmanship and Competitive Prices.
We are Experts in the DFW areas for New Swimming Pool Fence Construction, Ranch Style Livestock fencing, Board on Board Fences, Horizontal side by side fencing, electrical gate fencing, iron gate fencing, chain link fencing, cedar fencing, spruce fences, vinyl fencing and more with the best installers of Residential & Commercial Fencing contractors near you serving all of Frisco TX, Little Elm TX, University Park, Highland Park, McKinney, Prosper, Dallas, Arlington, Southlake, Wylie, Dallas, and the surrounding DFW areas.
For more information, please call 800-289-8057.
We do fence maintenance, Fence Staining, house patios, Custom Decks, and arbors. And offer a wide range of fencing and decking styles to satisfy every customer's needs. You have come to the right place for the installation of high-quality custom fences. We will install, build, and design your outdoor wall, arbors, Pergolas, porch, or wood deck using a variety of the absolute best possible construction materials money can buy.
Do you want to install a new fence or replace an old one? For an excellent investment, you want the best installers in the industry. NuFence and Wood LLC has earned a reputation as being the premier and top-performing residential and commercial fence contractors in Dallas, TX.
Competitive Prices. Quality Workmanship. Request an Estimate—open Monday-Saturday.
Call us today to get your project moving. Our professional sales staff and technicians will help you to navigate the choices of design, materials, and cost so you can be comfortable with your decision. In most cases, you will receive your contract on the initial visit.
We install the best quality and most extensive range of fences in Frisco and the surrounding area. We can design and install railings and all types of fences near you in a variety of materials, colors, and designs. Whether you prefer modern or classic, we have the expertise to fulfill your wishes.
What To Expect At NuFence & Wood, LLC
We only use the best quality materials that suit our local environment so that you can get the best out of your fence for many years. Backyard Escapes in Dallas, TX. Neighborhoods and Surrounding Metro. Once you accept and make your deposit, we schedule a convenient time for installation. We pay attention to detail during the engagement, consultation, and throughout the installation process. Our fences and satisfied customers are a great testimony to the high quality of the materials we choose and the skill, professionalism, and dedication of our craftsmen.
In-Home Fence Design. Call Today for No Obligation Quote. Providing the Highest Quality Residential and Commercial Fence and Gate Contractors near you.
Our team consists of professional artisans. They have many years of experience in this sector. Through them, we provide superior customer service and excellent quality craftsmanship that has stood the test of time. That is why we have an excellent track record in the industry. We are Your
local source for Quality Decks, and Customized Deck Restorations, including concrete driveway gates. We use many types of materials, including Wood, vinyl, and wrought iron., we also provide automatic gate fence openers, and we specialize in deck and fence repair in Dallas-Fort Worth.
Building a deck is an excellent investment, so we make sure that you get many years of pleasure from the project. Your pools and spas become more inviting when surrounded by a stunning deck. We will custom-design your porch or decks to complement the architecture of your house so that they blend in perfectly.
Call us today to schedule your project.
Our salesmen will help you create your dream design and to choose the best materials and colors. In most cases, NuFence will write the contract on the initial visit. Our professional installers will create a very high-quality deck that you will enjoy for many years.
For more information, please call 800-289-8057.
Hire the Best Fence & Gate Builders in Dallas, TX. Call our pros – Don't Overpay
We Provide Every Customer with Excellent Workmanship and Competitive Prices.
Compare the Different Types of Fences
POOL FENCES
Are you looking for a fence to complement the design of your landscape to comply with Homeowner Association standards and safety codes for a community pool? We provide a full range of residential and commercial fencing options near you in the DFW areas for the safety and beauty around your pool area. We will help you meet municipal safety codes while adding to the aesthetics of your pool investment. Our range of services includes the installation of new fencing, maintenance, and repair of existing fence structures, and adding or updating safety devices. We offer fence designs in iron, aluminum, Wood, vinyl, or simple mesh for a more temporary solution.
We Provide Every Customer With Excellent Fence Installation Workmanship and Competitive Prices.
We are Experts in Fence Deck Construction with the best installers of commercial and residential Fences in the Dallas surrounding areas. NuFence and Wood LLC has earned a reputation as being the premier and top-performing fence deck contractors in Dallas, TX.
For more information, please call 800-289-8057.

We design and install custom patios, residential Decks, and arbors. And offer a wide range of fencing and decking styles to satisfy every customer's needs.
CHAIN LINK FENCES
For most applications, we install using fabric thickness between 11-1/2 and nine gauges. Heavier 6 gauge is typically for heavy industrial or specialized uses, and the lighter gauges are best suited for residential fencing. The chain link fence is the most commonly available galvanized, which is silver in color.
We also offer vinyl coated colored chain link fence fabric, framework (posts and rail), colored fence fittings, gates (swing and slide), and gate hardware for all fencing applications: standard residential to light commercial, heavy commercial, temporary and industrial fence applications known as cyclone fencing, is a popular choice for both light residential to heavy commercial fence applications. Chain link fence NEAR DFW is also one of the most practical and cost-effective styles of fencing for securing your Texas property. Chain-link has four elements: fabric, framework, fittings, and gates.
How you combine them makes all the difference.
For our residential installations, we offer the traditional galvanized and the more popular all color coated chain link products in 42″, 48″, 60″, and 72″' high. The standard colors are black, green, brown, and white. We also provide a full line of commercial fencing solutions. We have galvanized and all color systems used for ball fields, warehouses, and perimeter fencing. We can special order high-security fencing to meet all government specifications, including non-climbable mesh sizes as small as 3/8″.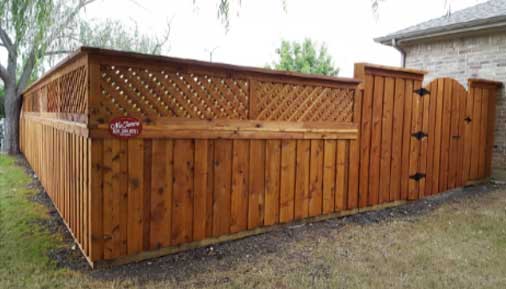 CEDAR FENCING
NUFence has installed and maintained cedar fences throughout the DFW metroplex since its inception. Our knowledge and skill with this wood fence option are unsurpassed. Western Red Cedar is a superior all-weather wood fencing material. Cedarwood fencing is naturally resistant to decay and insect damage. It has a unique grown in the Wood's preservative oil. Cedar material has less than half the swelling and shrinking tendencies of other domestic softwoods.
Our wood fencing material lies flat, stays straight, retains fasteners, and provides a firm base for paints and stains. This allows your cedar wood fencing to age gracefully through decades of extreme weather. Our cedar wood fences are constructed using only cedar or cedar fence Dallas pressure treated rails for added strength and durability, whether you choose wood or metal posts. We also use galvanized ring-shanked nails or screws as fasteners to ensure the long life and beauty of your fence. Cedar fencing is also highly regarded for its great looks, with a rich grain, texture, and color that complement any architectural style. Although Western Red Cedar is naturally durable, a finish is strongly recommended to ensure long, trouble-free service life. Transparent, semi-transparent, and solid color stains are the most popular finishes.
Call Today for Quote. Providing the Highest Quality Cedar Fence Installation
Our team consists of professionals. They have many years of experience in this sector. Through them, we provide superior customer service and excellent quality craftsmanship for commercial and residential fence installations that have stood the test of time. That is why we have an excellent track record in the industry. We are Your local source for Quality Fences, Decks, and Customized Arbors/Pergolas Covered Patios.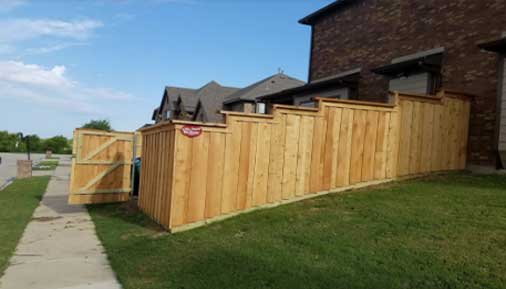 WOOD FENCING
When it is time to select fencing for your property, you may be overwhelmed by how many types of wood fences and other options there are from which to choose. But the decision mostly comes down to two considerations:
1. Form (i.e., stylistic considerations)
2. Function (i.e., what practical purpose the fencing will serve).
Fortunately, sometimes there is a happy marriage between form and function. Wood fences are an excellent choice for privacy fencing, whether it is in terms of noise or, more commonly, visual barriers. Whether the functional need is to keep children and pets in, keep animals and others out, or to add curb appeal and beauty to your home, a wood fence can be a cost-effective solution to your fencing needs. In choosing between types of wood fences, consider their potential for compatibility both with your house style and with your landscape-design style. Here are some of the more popular options offered by the professionals at NUFence and Wood LLC.
1) Cedar fences
2) Wood fencing
3) Spruce fences
4) Pressure-treated fences
5) Post and rail fences
6) Side-by-sideboard-on-board
7) Shadow boxed
8) Lattice fencing
9) Cap and trim
10) Corbels
11) Kickboard / Rot board
12) Though the typical heights requested by our clients are 6′, 7′ 8′ and 10′ we can customize the height and look of your new wood fence according to your requirements.
METAL IRON FENCES
A maintenance-free alternative to traditional wrought iron fencing that will add beauty, security, and value to any property. Aluminum fencing is the best alternative on the market today to enhance your property without breaking the bank. Aluminum will not rust or rot like other fence materials.
Here are some advantages for having Action Fence and Deck install an aluminum fence for you:
1. An aluminum fence is attractive; used for high visibility, it will beautify property lines while creating a deterrent to illegal entry.
2. It is quickly installed. It can be purchased as prefabricated panels and gates.
3. It can be used on a hillside or slope. It is rack able!
4. It is impervious to termites
5. Aluminum fencing does not rust, peel, or flake.
6. It is maintenance-free!
VINYL FENCES
Maintenance, repair, and replacement of fencing are often major (and on-going) expenses for individual homeowners and larger installations such as seen with Homeowners Associations and Commercial Developments. Vinyl fencing has been available since 1984 and is a viable alternative for many. It is the fastest-growing product in the fencing industry with sustained annual growth at 30% plus.
Vinyl has five times the tensile strength of Wood and four times the flexibility. It flexes under load, making it strong enough to hold cattle and horses safely.
1) Graffiti is easily removed with acetone or lacquer thinner without harming the fence.
2) These fences provide a safe and secure barrier for common pools, spas, and restricted areas.
3) Vinyl fence and deck products are created in controlled factory environments using stringent safety standards.
4) Vinyl is nontoxic and 100% recyclable.
At NuFence And Wood LLC, we understand the need to maximize your resources and invest your dollars wisely. Common reasons to have us install our vinyl products for you or your organization:
1) Vinyl fencing saves you money by eliminating your association's fence repair/replacement budget.
2) It adds lasting beauty and privacy to your entire community and individual homes.
3) It provides a safe and secure barrier for pools, spas, and restricted areas.
4) Vinyl is U.V. protected; it never needs to be painted. The color goes all the way through the material, so scratches or gouges are almost invisible.
ARE YOU TIRED OF HAVING NO PRIVATE SANCTUARY AT YOUR OWN HOME? DOES YOUR CURRENT DECK OR FENCE NEED CARE? WE CAN HELP!!
IF YOU NEED A FENCE OR DECK INSTALLED OR SERVICED,
DON'T WAIT, CONTACT US TODAY.