The Best Chain Link Fence Company Dallas TX.
We Provide Every Customer With Excellent Workmanship and Competitive Prices.
We will repair, stain, clean, refinish or rebuild, as needed, any exterior wood or iron structure.
Estimate
If you have a good idea of what you want, please us for an estimate so a NuFence representative can contact you.
About
Since 2000 NuFence & Wood, L.L.C. has been building, repairing, cleaning, sealing/staining, and painting wood fences, gates, decks, arbors, wood garage doors, and doing ornamental ironwork in Frisco, Plano, McKinney, Little Elm, and the surrounding area.
Chain Link Fence
We remove all accumulated mildew, mold, and discoloration from your fence caused by weather conditions. We can professionally apply wood care products that maintain the beautiful look of the wall and also protect and extend the life of the Wood. At Nu-Fence & Wood, we use quality products that penetrate deeply and seal the Wood while improving its natural beauty.
Iron Fences and Gates
Has your iron fence and gate become dull? It's time to refinish them, and NuFence & Wood is the best service provider in the Little Elm area. Generally, wrought iron is quite durable, but maintenance is still required so that it can perform at its best. We use the highest quality oil-based paints to protect the metal and bring the fence back to its former glory.
Fence and Gate Installation
When you call us, we can either take your measurements to provide a quick estimate or make an appointment to discuss the various available design options. Based on your decision, we initiate a contract for the project. Once the agreement is accepted and the deposit is made, we will schedule your project.
High Quality Products
Nu-Fence uses only premium quality products for our valued customers. Customers can rest assured that their security chain link fencing will protect them for many years.
Maintenance
Wrought iron fences and gates eventually succumb to the weather, which can result in rust and a low look. We are available to come and clean the whole wall and gate and repaint them, leaving them to last for many years.
CALL US FIRST ! Commercial And Residential 800-289-8057.

We service the entire Metroplex. GET EXCITED! Check Out Our Gallery and Reviews and MORE to provide you with Quality, Honesty, steadfast as far as the east is from the west, we are the Best and hardest workers, and yes, we live by faith and with great joy. We're good at fence installations, professional fence repairs, or any other chain link fencing services.
NuFence and Wood LLC bring a wealth of everything together in perfect harmony—creativity and expertise to each project, Commercial installation, as well as a dedication to quality. If you are looking for a company for custom chain link fencing in the DFW areas, contact us. We Provide Every Customer With Excellent Workmanship and Competitive Prices.
We Work Hard To Earn Your Business
Nu Fence will meet or beat written competitor's estimates by up to $300 for a building job or up to $75 on a stain job. Must provide a competitor's written assessment at the initial meeting to receive an offer. For more information, please call NuFence & Wood, L.L.C., 800-289-8057.
In-Home Design. Call Today for Quote. Providing the Highest Quality Service
Custom Fences Dallas TX | Fencing Options
Are you struggling to decide what type of chain link fence to install? We provide many options for residential fencing needs, and we are sure to have the right residential fence solution for you. We supply and install Wood, iron, aluminum, brick, stone, and vinyl fencing. We use the best quality fence materials in the industry, and our fences provide security and privacy for decades. That is why all our customers are happy and recommend our services.
For more on Chain Link Security Pool Fences more information, please call
We go beyond expectations, making sure that our customers have the best experience possible. General Info- We are a family-owned and operated company located in Frisco, TX. We provide all types of residential, commercial, and industrial fence, both large and small. With over 40 years' experience in the chain link fencing industry and thousands of satisfied customers, we offer you peace of mind. From small residential projects and repairs to large commercial and industrial projects, our goal is complete customer satisfaction at a reasonable price. All our chain link fencing work is guaranteed if you want the best call, NuFence & Wood!
30 Years of Experience Helps NuFence & Wood, LLC Serving Little Elm, Frisco, Plano, Mckinney, and all surrounding cities in DFW. Deliver Incredible Value. With us, you never have to worry about an inexperienced crew doing work for you! Construction and maintenance are what our owner has been doing for more than 30 years, and each of our team members has at least ten years of experience.
How Our Process Works
It's as simple as this:
1) You call us to schedule your FREE consultation/estimate (800) 289-8057
2) You discuss the scope of your project with our salesman
3) We provide a project proposal, and you accept or make clarifications if needed
4) You pay a deposit of 50% down on all projects greater than $1000 in value
5) Our crews come out to your home and do the work.
If you want a simple repair project performed to give your home a better look, or if you would like to transform your yard into your dream living space, contact us online or call (800) 289-8057.
Repair or replace? Often, that's a tough question to answer. If it's time to replace or you need a new installation, count on NuFence & Wood. Our professional sales staff and technicians will help you navigate the choices of design, materials, and cost so you can be comfortable with your decision to join the NuFence & Wood family of clients.
Our clients are more than satisfied because we pay attention to detail throughout the entire process, from engagement and consultation through the installation process and ongoing maintenance and support. Our fences testify to the high quality of the materials we choose and the skill and dedication of our builders.
Vinyl Fences We Provide Every Customer with Excellent Workmanship and Competitive Prices.
If you are looking for a maintenance-free fence, you may want NuFence & Wood, LLC, to install vinyl chain link fencing around your home. Vinyl chain link fencing has been available since 1984. It is the fastest-growing product in the chain link fencing industry.
Why Use Vinyl?
Vinyl fences are a safe and secure barrier for common pools, spas, and restricted areas because:
1) Vinyl is four times as flexible as Wood and has five times the tensile strength of Wood. Because it flexes under load, it can safely hold in cattle and horses.
2) Any graffiti is easily-removed with lacquer thinner or acetone without harming the fence.
3) Vinyl is 100% recyclable and not toxic.
4) Vinyl fence and deck products are created in controlled factory environments using stringent safety standards.
5) Vinyl does not need much maintenance and saves money. Maintenance, repair, and replacement of chain link fencing- are often major (and ongoing) expenses for individual homeowners.
6) Its beauty is lasting, and it provides much-needed privacy to homes.
7) There is no need to paint it since its color goes all the way through the material, and scratches are hardly noticeable.
These reasons make vinyl chain link fencing- one of the most popular choices. We have been installing vinyl fences since our inception, and we have accumulated a lot of experience with the material.
For more on Chain Link Security Pool Fences more information, please call NuFence & Wood, LLC.
A pool fence or custom deck or outdoor patio living and backyard fun is a significant part of your backyard, security, privacy, and garden decor. Therefore, we take your requests seriously. We go beyond expectations, making sure that our customers have the best experience possible.
Our team consists of professional general contractors in Texas. They have many years of experience in this sector. Through them, we provide superior customer service and excellent quality craftsmanship that has stood the test of time. That is why we have an excellent track record in the industry. We are direct installers, so we save on overheads, and we pass on the savings to you. Our combination of reasonable prices and high-quality work has made us the fence and deck company of choice in Dallas.
NuFence & Wood installs and repairs chain link fences for many sports complexes and community projects around the North Dallas area. Suppose you are looking for a realistic style of fence to secure your property or pets.  We install chain-link fences for both residential and commercial clients. The chain-link fence fabric is generally galvanized and looks silver in color. Other colors available are black, brown, green, and white, which are all vinyl coated. We also provide vinyl-coated posts, rails, gates (swing and slide), and gate hardware in those colors.
We have fenced many homes, warehouses, ball fields, and other perimeters. We can also make a particular order for high-security chain link fencing that meets all government specifications, including non-climbable mesh. Call us today to get your project scheduled. Our salesmen will discuss your needs and help you choose the best chain link fence for your property.
Ranch-style / Livestock Fences
Texas is a farming state, and we love to work with the farmers around us to protect their investments in livestock. Many innovations have occurred in the chain link fencing industry in recent years, giving ranchers a wide range of options for fences to confine and protect livestock.
Whether used to encircle a house, or as permanent, periphery boundaries, or temporary pasture dividers, barriers need careful planning and construction for efficient usefulness, long life, and low maintenance. WERE highly experienced in the design and installation of bars around ranches to make sure that the animals are kept secure within the bars and uninvited visitors kept out.
We have worked with many agricultural concerns and acquired a lot of knowledge and experience. We know what is needed by the farmers, and we work with each customer to understand their needs while making suggestions based on our expertise. We understand that each farmer's markets are unique, and therefore, we can suggest the best design and materials for the work at hand. In all our work from design and installation, we take into consideration the well-being of the animals.
Many Materials to Choose From
Many types of chain link fencing are available, and the choice depends on your needs. We will work with you to determine which fence is in line with your needs. NuFence can provide no-climb horse chain link fencing, galvanized and black vinyl coated hog wire, Wood and wire, post and rail, t-post, and barbed wire. Upon completion, you can rest assured knowing that a sturdy yet attractive fence will provide a haven for your treasured livestock.
Iron Fences
Are we looking for a new fence in the North Dallas, Frisco, Plano, or the surrounding area? Call NuFence, the best installers of chain link fencing and maintenance service providers in Dallas.
Wrought iron fences and gates are beautiful and long-lasting. From our long-term experience, we have the skill to install beautiful designs for your walls and gates. We can create iron panel chain link fencing, swimming pool fences, driveway gates, and pedestrian gates. Our customer base includes residential homes, commercial contractors, municipalities, multi-family use properties, offices, schools, institutions, churches, etc. We guarantee quality materials with top-class artistry. We pride ourselves in carrying out simple business.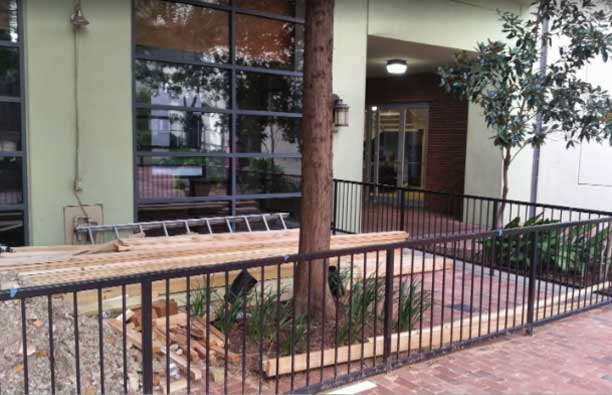 REAL CUSTOMER TESTIMONIALS
ABOUT OUR COMPANY
The Best Deck & Fence Company serving the Greater Dallas-Fort Worth Metroplex! Toll-free phone: (800) 289-8057
1) Other Link: https://www.nufenceandwood.com
2) Categories: Fence-Sales, Service & Contractors, Fence Repair
NuFence & Wood, LLC Serving Little Elm, Frisco, Plano, Mckinney, and all surrounding cities in DFW. Dba NuFence & Wood, LLC is your single source for affordable, quality fences, decks, driveway gates, automatic openers, and repair in Frisco TX, Dallas Fort Worth areas DFW, TX.
"Not only was NuFence contracted to replace my 15-year-old 6-foot picket fence with a taller, 8 foot, board-on-board fence, but so was my neighbor's (David Coy). As with any construction project, some obstacles arose. Kareem and his crew did an excellent deck or fence repair job in Frisco, TX, or DFW, working together with us to come to resolutions that were satisfactory to all. There were even upgrades made to the design of the fences that made the final product come out even better. The fence stain color was crucial to me so that it would match up with some existing stained cedar I have on my back patio. The stain could not have matched any better. David likes it so much that he says sometimes he pauses and stares out the window at the fence. He keeps saying, "It's gorgeous." And, "I like the detail work, and the architectural look, of the multiple step-downs." Also, "The sense of privacy resulting from an 8-foot fence, and board-on-board build, is far better than I expected." When it came to the final product, David and I were delighted with the new fences in our yards. We would recommend Kareem and NuFence to anyone looking to get a new wall."
"My Experience with the owners at Nu Fence & Wood was Positive: I'm so impressed with their Professionalism, Punctuality, and Quality, plus the Responsiveness of Kareem and his wonderful wife. They built my fence four years ago and recently stained it and maintained the electric gate. Their work is excellent, and they were on time to get started. The owner is a great guy with good values and solid business acumen, and he cares about his customers. If you want a chain link fencing or wood deck or fence repair job in Frisco, TX, or DFW done right, this is the company for you."
"I needed a new fence and new arbor, and I needed it done. I have three dogs. They did the whole job in one and a half days, including raising one side of the fence two feet and placing extra posts in the back per my request to strengthen it further bc my dogs are significant, and they jump on the back wall when in the back yard since it runs along the alley. The arbor was also a massive job bc they had to remove an enormous wisteria. I also upgraded to cedar, and they used more significant wood pieces for support, so the fence is excellent. Kareem, Mack, and their whole crew are very professional. I will be using Nufence for subsequent fence staining as well."
DEREK MCCARTY
"Fence installation. Kareem is very responsible and professional. The quality of his work is excellent; even our property manager wanted to have his contact info. Great working attitude! I Will work with him again! The experience of dealing with NuFence was excellent. They were very professional in their dealings. The materials were exactly as we agreed upon, and they completed the work faster than they had committed to doing. I'm happy with the craft and the value. They were price competitive and a pleasure to deal with. I highly recommend them and would use them again."
JAMES COFFEY
"Excellent family-owned and operated company! They do great work. Give them a call. I can't say enough about Kareem Evans. A friend gave me his name, so I called, and he came out the same day. Initially, I thought he was going to look at my fence and give me an estimate. He fixed it on the spot ( removed old nails and used long screws to get the cornerback together) and didn't charge me! Very professional, showed up when he said he would. The original fence builder never returned Read More."
"Kareem, the owner, whenever we spoke, was Positive:  Affordable. Beautiful. Highly recommend. My wife loves EVERYTHING- excellent Deck or fence repair job in Frisco, TX or DFW; guys, thank you again for everything"
"Hired NuFence to replace and stain my fence in Little Elm. The crew was very professional, efficient, and kept the area clean throughout the whole process. Kareem is a great guy and was always very responsive to all my questions and concerns. I would recommend NuFence in Dallas to any of my friends and anyone looking for quality work and excellent customer service!"
"In the past couple of years, I hired NuFence in Dallas to build a new fence and a new pergola for my home here in Frisco. They did a great deck or fence repair job Kareem is a great guy, very professional and detailed. His crews do concrete work in Dallas, He keeps the project managements for decks or fence repair job in Frisco TX or warehouses in DFW site location clean, and maintain good communication with their clients. I'd recommend NuFence to anyone, anytime and anyplace."
"I would highly recommend NuFence in Dallas, Texas, to anyone wanting to stain their fence. Kareem, the business owner, was great and very easy to work with-Straight forward and honest. His crew showed up on time, and the finished product was excellent."
Amy Southern
"By far, the best company for your fence and-deck-installs in DFW. On-time and very efficient. I highly recommend them."
Bobbie Culberson