Professional Residential Wood & Iron Fence & Deck Company in the DFW Texas Metroplex.
We Provide Every Customer With Excellent Workmanship and Competitive Prices.
We are Experts in the DFW areas for New Swimming Pool Fence Construction, Ranch Style Livestock fencing, Board on Board Fences, Horizontal side by side fencing, electrical gate fencing, iron gate fencing, chain link fencing, cedar fencing, spruce fences, vinyl fencing, and more with the best installers of Residential & Commercial Fencing contractors near you serving all of Frisco TX, Little Elm TX, University Park, Highland Park, McKinney, Prosper, Dallas, Arlington, Southlake, Wylie, Dallas, and the surrounding DFW areas.
We do fence maintenance, Fence Staining, house patios, Custom Decks, and arbors. And offer a wide range of fencing and decking styles to satisfy every customer's needs. You have come to the right place for the installation of high-quality custom fences. We will install, build, and design your outdoor wall, arbors, Pergolas, porch, or wood deck using a variety of the absolute best possible construction materials money can buy.
Do you want to install a new fence or replace an old one? For an excellent investment, you want the best installers in the industry. NuFence and Wood LLC has earned a reputation as being the premier and top-performing residential and commercial fence contractors in Dallas, TX.
Competitive Prices | Quality Workmanship | Request an Estimate—open Monday-Saturday.
Call us today to get your project moving. Our professional sales staff and technicians will help you to navigate the choices of design, materials, and cost so you can be comfortable with your decision. In most cases, you will receive your contract on the initial visit.
We install the best quality and most extensive range of fences in Frisco and the surrounding area. We can design and install railings and all types of fences near you in a variety of materials, colors, and designs. Whether you prefer modern or classic, we have the expertise to fulfill your wishes.
What To Expect At NuFence & Wood, LLC
We only use the best quality materials that suit our local environment so that you can get the best out of your fence for many years. Backyard Escapes in Dallas, TX. Neighborhoods and Surrounding Metro. Once you accept and make your deposit, we schedule a convenient time for installation. We pay attention to detail during the engagement, consultation, and throughout the installation process. Our fences and satisfied customers are a great testimony to the high quality of the materials we choose and the skill, professionalism, and dedication of our craftsmen.
Repair or replace? Often, that's a tough question to answer. If it's time to replace or you need a new installation, count on NuFence & Wood, LLC. Our professional sales staff and technicians will help you navigate the choices of design, materials, and cost so you can be comfortable with your decision to join the NuFence & Wood, LLC family of clients.
Our clients are more than satisfied because we pay attention to detail throughout the entire process, from engagement and consultation through the installation process and ongoing maintenance and support. Our fences testify to the high quality of the materials we choose and the skill and dedication of our builders.
For more information, please call 800-289-8057.
Choosing The Right Fencing Company For You
Most homeowners in DFW choose the addition of a fence to their house's mainly as a means of security and providing separation and privacy. At the same time, the installation of walls also adds to the aesthetic appeal of the house. However, while deciding to install a fence may be a no-brainer, the same can't be said for the following decisions. Your requirements and budget always determine your choice of the right material and design, and you certainly can not make these decisions alone. Hence, the first thing you should look into is to find an agency that can cater to your individual needs. While this itself seems like a daunting task, with a vast selection of professional agencies that you can choose from, let us make this task a little easier for you by breaking down the essential steps of selecting the right fencing company for you.
1. Know Your Purpose And Requirements
To begin, you need to consider what it is you are looking for. While it is not expected that you know what caters best to your needs, it is good to have a good reference point. The services that will be open to you will generally be pertinent to the nature of your space. Large, commercial businesses will often have very different materials and design needs as compared to those of a humble, private room. Everything from the design, to the materials used, to the size and placement of the fence, hinges on your individual needs.
The location of your business, house, or store also plays a crucial role in determining your requirements. You can often use others as a reference to see what materials have been sustained in your location. For example, the weather plays a massive role in the fences' durability, and you want to choose the right material that is best suited for that environment. Similarly, your location's topography also helps in determining the color and design that would be best suited for your fences.
2. Do Your Research And Ask For References
No one can understand your needs better than yourself. The first step to take while finding the right fencing company is to ask around! Chances are, some of your friends have already had some fencing installed, and most of them will have a lot of valuable input to give from their experience that you will not be able to find anywhere else. With so many companies providing fencing services in Dallas, you will likely be able to find one that fits your needs by pure references.
Once you have a general idea of what company might best cater to your needs, don't just jump in without any further research! It is ideal to invest some time into researching so that you can know for yourself what you are getting yourself into. Ideally, you want to be able to find portfolios and customer reviews. Visit the company's website and try to get an idea of their previous work. You can check out the NuFence portfolio and reviews on our website. If you cannot find any reviews and portfolios, or if the thoughts are unable to answer your specific questions, don't hesitate to contact the company and ask an expert.
3. Schedule A Consultation With An Expert
If you still find that you require some basic questions answered or want to learn even more about the company, then speaking to an expert is the best solution. Often, you cannot get the same information and insight from a website as you can from a person affiliated with the company, knows their history, and can provide in-depth answers to your specific questions.
Suppose you feel like you want to learn more about NuFence and the services we can provide, schedule a consultation with us! Our salesman will assist you in understanding your requirements, creating your dream design, and choose the best materials and colors suited to your needs and style. This is the sort of help you cannot get online.

CHAIN LINK FENCES DALLAS-FORT WORTH
Chain link fences in DFW, also known as cyclone fencing, is a popular choice for both light residential to heavy commercial fence applications. Chain link fence is also one of the most practical and cost-effective styles of fence for securing your property. Chain-link has four elements: fabric, framework, fittings, and gates. How you combine them makes all the difference.
For most applications NuFence & Wood, LLC installs using fabric thickness between 11-1/2 and nine-gauge. Heavier six gauges are typically for heavy industrial or specialized uses, and the lighter gauges are best suited for residential fencing. The chain-link fence is most commonly available galvanized, which is silver in color. We also offer vinyl coated colored chain link fence in DFW fabric, framework (posts and rail), colored fence fittings, gates (swing and slide), and gate hardware for all fencing applications: standard residential to light commercial, heavy commercial, temporary, and industrial fence applications. For our residential installations, NuFence & Wood, LLC offers the traditional galvanized and the more popular all color coated chain link products in 42″, 48″, 60″, and 72″' high.
The standard colors are black, green, brown, and white. We also provide a full line of commercial fencing solutions. We have galvanized and all color systems used for ball fields, warehouses, and perimeter fencing. We can mainly order high-security fencing to meet all government specifications, including nonclimbable mesh sizes as small as 3/8″.
POOL FENCES – DALLAS / FT. WORTH
NuFence & Wood, LLC, in DFW provides a full range of fencing options for the safety and beauty around your pool area. We'll help you meet municipal safety codes while adding to the aesthetics of your pool investment. Our range of services includes the installation of new fencing, maintenance, and repair of existing fence structures, and adding or updating safety devices. Are you looking for a fence to complement the design of your landscape?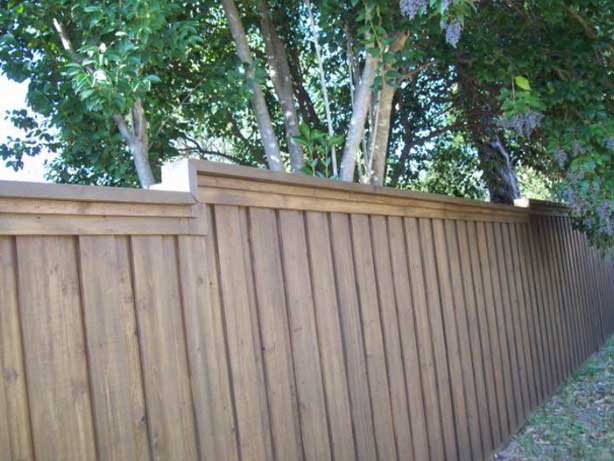 CEDAR FENCES DALLAS-FORT WORTH
We installed and maintained cedar fences throughout the metroplex since its inception. Our knowledge and skill with this wood fence option are unsurpassed. Western Red Cedar is a superior all-weather wood fencing material. Cedarwood fencing in DFW is naturally resistant to decay and insect damage. It has a unique grown in the wood's preservative oil. Cedar material has less than
half the swelling and shrinking tendencies of other domestic softwoods.
Our wood fencing material lies flat, stays straight, retains fasteners, and provides a firm base for paints and stains. This allows your cedar wood fencing to age gracefully through decades of extreme weather. Our cedar wood fences are constructed using only cedar or cedar fence Dallas pressure treated rails for added strength and durability, whether you choose wood or metal posts. We also use galvanized ring-shanked nails or screws as fasteners to ensure the long life and beauty of your fence.
Cedar fencing is also highly regarded for its great looks, with a rich grain, texture, and color that complement any architectural style. Although Western Red Cedar is naturally durable, a finish is strongly recommended to ensure long, trouble-free service life. Transparent, semi-transparent, and solid color stains are the most popular finishes.
For more information, please call 800-289-8057.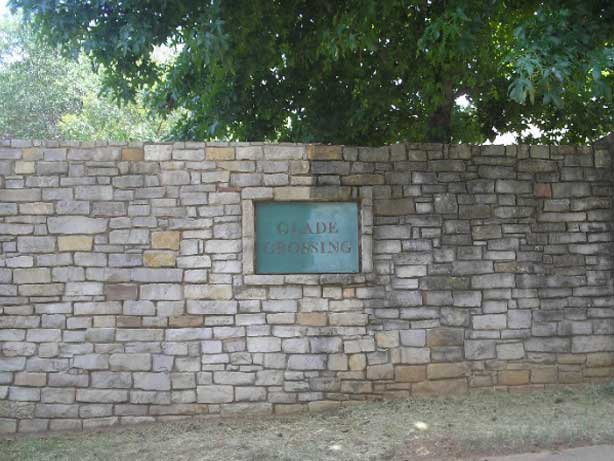 STONE FENCES & ROCK WALLS – DALLAS / FT. WORTH
A typical functional use for stone or rock wall structures is soil retention, where there is a slope or dramatic height difference in the terrain. While these retaining walls may also be constructed using pressure-treated woods, landscape timbers, railroad ties, or other materials, stone and rock are often the choices to match patio or home decor.
At NuFence & Wood, LLC, we also construct mailbox columns, fences, patios, and other landmarks using these durable, long-lasting materials. There is very little if any, maintenance is required to enjoy the structural integrity and look of a well-built wall. Call us today to discuss the materials and design of your new fence.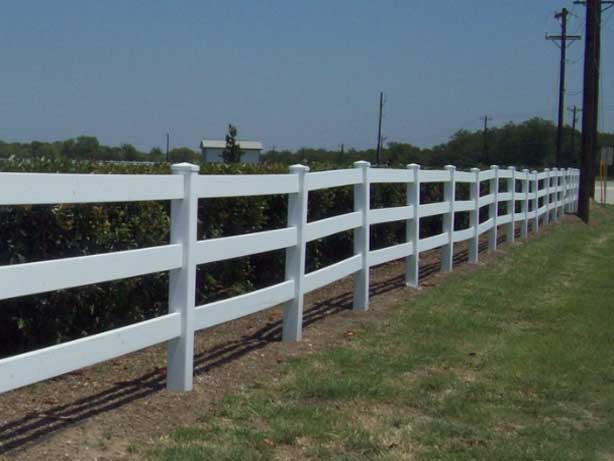 POST & RAIL FENCES DALLAS / FORT WORTH
The post-and-rail fence in DFW is also known as a ranch-style fence. You see them around corrals or running along long driveways. Split-rail walls can be considered a subset of the post-and-rail style. While they don't offer privacy and will not keep dogs or children from passing through, they do provide a visual structure that can be attractive and functional. Often constructed in cedar, post and rail fences can add a beautiful dimension to your landscape. At NuFence & Wood, LLC, we have installed many variations of this category, including all wood, wood, and stone, all vinyl, and pipe rail.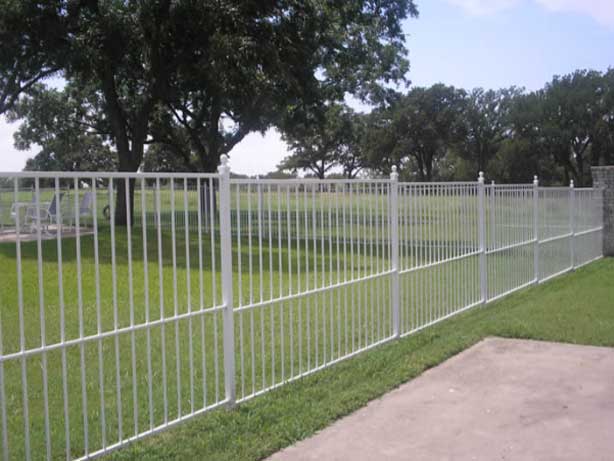 METAL FENCES – DALLAS / FT. WORTH
An aluminum fence in DFW is a maintenance-free alternative to traditional wrought iron fencing that will add beauty, security, and value to any property. Aluminum fencing is the best alternative on the market today to enhance your property without breaking the bank. Aluminum will not rust or rot like other fence materials.
1. An aluminum fence is attractive; used for high visibility, it will beautify property lines while creating a deterrent to illegal entry.
2. It is quickly installed. It can be purchased as prefabricated panels and gates.
3. It can be used on a hillside or slope. It is rackable!
4. It is impervious to termites
5. Aluminum fencing does not rust, peel, or flake.
6. It is maintenance-free!

VINYL FENCES – DALLAS / FT. WORTH
Nu Fence & Deck Company Maintenance, repair, and replacement in DFW are often major (and ongoing) expenses for individual homeowners and larger installations such as seen with Homeowners Associations and Commercial Developments. Vinyl fencing has been available since 1984 and is a viable alternative for many. It is the fastest-growing product in the fencing industry with
sustained annual growth at 30% plus.
Vinyl has five times the tensile strength of wood and four times the flexibility. It flexes under load, making it strong enough to hold cattle and horses safely.
1) Graffiti is easily removed with acetone or lacquer thinner without harming the fence.
2) These fences provide a safe and secure barrier for common pools, spas, and restricted areas.
3) Vinyl fence and deck products are created in controlled factory environments using stringent safety standards.
4) Vinyl is nontoxic and 100% recyclable.
At NuFence And Wood LLC, we understand the need to maximize your resources and invest your dollars wisely. Common reasons to have us install our vinyl products for you or your organization:
1) Vinyl fencing in DFW saves you money by eliminating your association's fence
repair/replacement budget.
2) It adds lasting beauty and privacy to your entire community and individual homes.
3) It provides a safe and secure barrier for pools, spas, and restricted areas.
4) Vinyl is U.V. protected; it never needs to be painted. The color goes all the way through the material, so scratches or gouges are almost invisible.
ARE YOU TIRED OF HAVING NO PRIVATE SANCTUARY AT YOUR OWN HOME? DOES YOUR CURRENT DECK OR FENCE NEED CARE? WE CAN HELP!!
IF YOU NEED A FENCE OR DECK INSTALLED OR SERVICED,
DON'T WAIT, CONTACT US TODAY.