Pool Fence Installation Company DFW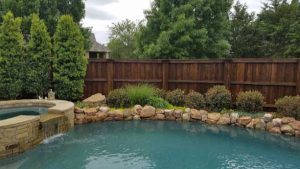 Looking for the best pool fence in DFW? We offer FREE estimates and flexible scheduling, perfect for busy families. Our attractive pool fences bring peace of mind to parents, grandparents, and caretakers. We strive to make every swimming pool in the area safe for children and pets with our pool fences.
Our removable mesh pool fence offers peace of mind, protecting children and pets from accidents. What sets our pool fence apart? It starts with our strong poles. Made from T-6 aluminum alloy, our poles are up to 3x stronger than standard ones. Our fence offers unmatched strength and flexibility, with solid metal rods filling the bottom 14 inches of each pole. Invest in a pool fence in the DFW Areas for enhanced safety and peace of mind. Swimming pools can pose a significant risk to children and pets in Texas, with drowning being one of the leading causes of death among children under 5. By opting for a pool fence company in DFW and exercising adult supervision, you can effectively protect against accidents. Our pool fences include Copper Vein Poles with Brown Mesh and brown Mesh Border, Black Poles with Black Mesh and black Mesh Border, or our popular X Pole. Our skilled team can work around your schedule to install a pool fence today. At Nu Fence Texas, we offer durable and top-quality pet and child safety pool fences in DFW. As a trusted Fort Worth, TX fence company, we cater to all your pool safety needs. Contact us at 800-289-8057 to find the perfect solution for your pool fence requirements.
Meets and exceeds global safety standards
Removable for events and gatherings
Comes with a lifetime warranty
Can be installed on various surfaces
Stylish and attractive design options
Provides unbeatable strength and security
Protect your pets with pet fence installations. Install a mesh fence around your pool for added safety. Keep your pool area safe for kids and pets. Protect your loved ones from pool accidents by choosing Nu Fence for your pool safety barrier. Get a free estimate today and enjoy the peace of mind of having a top-quality, removable pool fence that exceeds safety requirements: Trust Nu Fence, the preferred choice of homeowners in Texas for all your pool safety needs. With our durable and attractive pet fences, you can rest easy knowing that your furry friend is protected, and your home's aesthetic is preserved. Don't settle for less than the best for your pet's safety – choose an actual safety pet fence.
The Importance of Pool Fences for Safety
With an average of 700 yearly drownings and countless life-threatening injuries, pool safety barriers are essential. This is especially true for homes with toddlers or grandparents caring for grandchildren. Removable safety fencing provides flexible protection. Shockingly, 77% of fatal drownings occur within 5 minutes of the child being last seen, highlighting the urgency of installing a pool safety fence throughout Texas. Act now to prevent accidents and keep your loved ones safe.
Our removable mesh pool fence not only meets but exceeds safety requirements. We offer installation on surfaces such as tiles, wood decking, concrete, paving, grass, and dirt. When it comes to choosing a pool safety fence, homeowners in Texas prefer NU Fence for several reasons. Our fences offer unbeatable strength and security, along with the following features and benefits:
Child-proof safety fence available in 4ft and 5ft heights
Solid, non-corrosive poles with reinforced options
Lockable latches made of stainless steel for added security
Variety of colors to choose from
Durable mesh fabric that can withstand wear and tear
Convenient self-closing and self-latching gate
Lifetime warranty for peace of mind
Premier Materials: Pool Fence Installation Expert
No matter the material of your deck, whether it's wood, stone, concrete, or brick, our professional and custom installation services guarantee longevity. Our pool fences can also be installed in existing seawalls or lawn/planter areas. Our commitment to quality sets us apart, so we utilize precise diamond core drilling equipment to safeguard your masonry surface. Unlike other companies, we prioritize offering the best pre-sale advice. Our aim is not to charge the highest price but to ensure your pool's safety and enhance the beauty and usability of your backyard. Our fences feature sturdy aluminum poles that are corrosion-resistant and built to endure. These poles are the strongest in the industry.
Pool Safety is Our Number One Priority: Install a Child Safety Fence for Pools
Drowning is a severe concern for Texas pool owners. An unprotected swimming pool is more dangerous than a loaded gun. Sadly, drownings are a leading cause of death among children aged 1-4, second only to congenital disabilities. Additionally, children with autism have a significantly higher risk of drowning, with accidental drownings accounting for 91% of deaths in children aged 14 and under with autism. From 2004-2006, drowning accounted for 3% of injury-related deaths in Texas, making it the 5th leading cause of unintentional deaths in the state. In 2005-2008, young children were more vulnerable to drowning than school-age children. To prevent accidental drownings, it is crucial to have layers of protection, including a child safety pool fence in your home. In Texas, homes with pools are required to follow specific pool barrier guidelines.
The pool enclosure must be at least 48 inches tall, and any openings under it cannot let a sphere 4 inches in diameter pass through. The openings cannot allow the same sphere to pass through if the enclosure has horizontal and vertical members. It also must have a self-closing gate with a self-closing and self-latching mechanism that can be locked. The gate must open outward from the pool, with the latch installed on the poolside at least 3 inches below the top of the gate.
Durable Poles and Materials: Top-Notch Removable Mesh Pool Fence
Our top-of-the-line removable mesh pool fence is constructed using high-quality materials, including the strongest poles on the market. Skilled factory employees professionally install the fence, ensuring its long-lastingness and dependability. This pool fence is specifically designed to safeguard young children and pets from potential accidents near the swimming pool. We firmly believe that we offer the finest removable pool fence currently available. To ensure the highest level of safety and quality. We understand the importance of installing a reliable and secure pool fence, which is why our installers undergo rigorous training to ensure they are equipped with the necessary skills and knowledge.
In addition to installation, our pool fence installers also conduct thorough inspections to ensure the strength and durability of the fence. We take pride in our attention to detail and strive for excellence in every aspect of our work.
Once the installation is complete, our installers provide comprehensive guidelines to homeowners on how to properly uninstall, maintain, and care for the pool fence. We believe in empowering homeowners with the knowledge they need to keep their loved ones safe.
Key Attributes:
Poles:
Sturdy aluminum poles
3x stronger than standard x-poles
Constructed from T-6 aluminum alloy, providing exceptional rigidness
Schedule 80 P.V.C internal wall, filled with a T-5 break-resistant, solid metal rod in the bottom 14 inches of each pole.
Offers unparalleled strength and flexibility.
Supported by a manufacturer's lifetime warranty from Life Saver
The market's strongest pole, making our removable mesh pool fence America's best choice.
If you're looking for a top-notch pool fence, go for Nu Fence.
We serve the DFW metroplex area in North Texas, including Collin, Denton, Ellis, Hood, Hunt, Johnson, Kaufman, Parker, Rockwall, Somervell, Tarrant, and Wise counties. We also travel up to 100 miles from the Dallas-Fort Worth area to install mesh safety fences in Addison, Aledo, Allen, Arlington, and Azle locations. Trust Nu Fence of Texas to make your swimming pool safe
for children and pets.
FAQs about Pool Fences
Nu Fence is a leading provider of strong and secure removable mesh fences. Our goal is to create a protective barrier between young children and swimming pools in Texas, promoting safety and reducing the risk of drowning.
1. How safe are mesh pool fences?
Our mesh pool fences are made with durable industrial mesh that can withstand the test of time. Installing a pool fence in your backyard adds important protection and helps prevent accidental drowning.
2. Can children climb over the pool fence?
No, the design of our mesh pool fence makes it difficult for children to gain leverage and climb over. With no foothold on the fence, it is doubtful for children to be able to climb over it.
3. What is the cost of a pool safety fence?
The cost of a pool fence depends on various factors such as layout, mesh choice, pole strength, fence height, durability, linear footage, and gate options. We recommend scheduling a FREE estimate with us to discuss your specific needs. Contact us today!
How long does a pool fence last?
Our pool fence products provide years of safety and peace of mind with proper care. They have a durable powder-coated finish that is resistant to rust.
What is the ideal height for a pool safety fence?
The recommended height for a pool safety fence is 4 feet (48 inches) with a ground clearance of less than 2 inches. Our fences are available in sizes of 48″, 54″, and 60″.
Is a mesh fence suitable for pets?
Yes, a strong mesh fence system can ensure the safety of your furry friends.
Can a child easily knock down the fence?
No, our Nu Pool Fence is designed to be sturdy and securely installed. Regular disturbances do not easily knock it down. The poles even have stainless steel pins for added durability. However, constant supervision is still necessary.
What is the best surface for pool fence installation?
Our safety fences can be easily installed on grass, concrete, wooden decks, sand, dirt, cement, and more with proper accommodation.
Do you provide a warranty for the fence?
Nu Pool Fence offers a lifetime warranty covering any defects or faults in the installation and fencing materials.
Where are your fences manufactured?
Nu pool fences are proudly built in the USA using high-quality materials to ensure the highest safety standards.
What can I expect during the installation process?
We will meet with you on the installation day to review the pool layout. Once finalized, we will begin the installation by drilling specific points in the deck to secure the pool safety fence. Plastic sleeves will be inserted into the holes for a snug fit of the poles. We will then set up the self-closing gate and fence according to your customized layout. The entire installation process typically takes a few hours but may vary depending on the size and shape of your pool.
What are the options available for your pool fence?
Our pool fence options come in various colors and styles to suit your requirements. We offer budget-friendly options that prioritize safety.
Which pool cover is the right choice for me?
Regarding pool fence materials, different options, such as chain link, wrought iron, and mesh, are available on the market. However, mesh pool fences are favored for their aesthetic appeal and safety features. We recommend visiting our pool cover product page to find the perfect fit for your needs.
Affordable and Safe DIY Pool Fence Installation in Dallas, TX
Are you looking to save money and protect your pool? Choose our custom black mesh pool fence installation in Dallas, TX. Our DIY model allows for easy installation without costly equipment. Visit our Pool Fence Guidelines page for a secure swimming pool. For the best pool fence installation in the Dallas or Fort Worth area, contact our pool fence company for expert guidance and the right choice.
Contact us now to learn more about our fence installation process and to schedule a free estimate.