Why You Should Install A Chain Link Fence
Why You Should Install A Chain Link Fence
Get a fence installed by trusted local pros. We look forward to serving your fence here at Faith Family Fences. For a quote, please contact us at 800-289-8057.
Whatever your fencing needs, we've got you covered.
We offer a wide range of materials and products to meet your needs. We can make a chain link fence in any height or color, making it one of the most eco-friendly and versatile fence options.
Your new fence will blend seamlessly with your landscape and provide an economical solution for establishing your property lines. You can restrict access to certain areas on your property by hiring a reliable company for chain link fence installation in Dallas & Fort Worth surrounding areas in TX. We will inspect your property and recommend the best type of privacy fence in DFW.
YOUR FENCING EXPERTS
Quality fencing materials and installation for your home or business. We stand out among fencing contractors in the greater Dallas area by responding to our customer's needs. Sure, it sounds simple because it is. We answer our phones. We return calls. We keep our word. And we service our products after completion. When you combine our high-quality fences and gates with our top-notch service and family-owned and operated values, it's no surprise that we are one of the best-rated fence companies in and around DFW. NU Fence Company's chain link fence installation experts will ensure you are delighted with your purchase.
Long-lasting
Low Maintenance and Costs
Sturdy in adverse weather with high adaptability
There are many colors and thicknesses to choose from
Easy Repair & Replacement
Galvanized steel fences can withstand years of abuse and punishment. You can customize your design to suit your landscape and interests. To create a secure barrier around residential and commercial properties, we have installed chain link fencing.
We want to provide you with the best possible experience. This means delivering the highest quality fence to meet your needs and exceed your expectations. We will complete all our work within your budget and on time to protect your property in Ft Worth, TX.
Don't forget about the many benefits of a chain-link wall! Here are some reasons:
Durable
Made of galvanized steel, chains link fences last for many years. All materials can withstand the weathering effects of nature and are strong enough to withstand large objects' impacts. It doesn't matter the reason you have for installing chain link fencing; it will serve its purpose for many decades!
See through
Let's suppose you want your puppy to roam free in your yard. You may also need to mark the boundary between your property and your neighbor's. You might also want to separate your yard from the brush that crosses the property line. No matter what, everyone will be able to see your beautiful landscape as they pass by.
Variety
Many heights, colors, and thicknesses are available when you search for a fence in the surrounding areas. You may prefer the sleek appearance of a black chain link fence over chrome or vice versa. They are made with many different preferences in mind.
Easy Maintenance & Low Cost
If you are looking for a fence that serves a purpose other than aesthetics, then this is the right choice. They require very little maintenance beyond annual inspections and occasionally washing debris with a pressure washer or hose. You can also quickly repair or replace parts, usually available at your local hardware store.
Security: A chain link fence provides extra protection for your home and property. In general, walls are used to prevent burglars and other potential intrusions. You will feel more secure and can rest assured about the safety of your family members and other essential assets.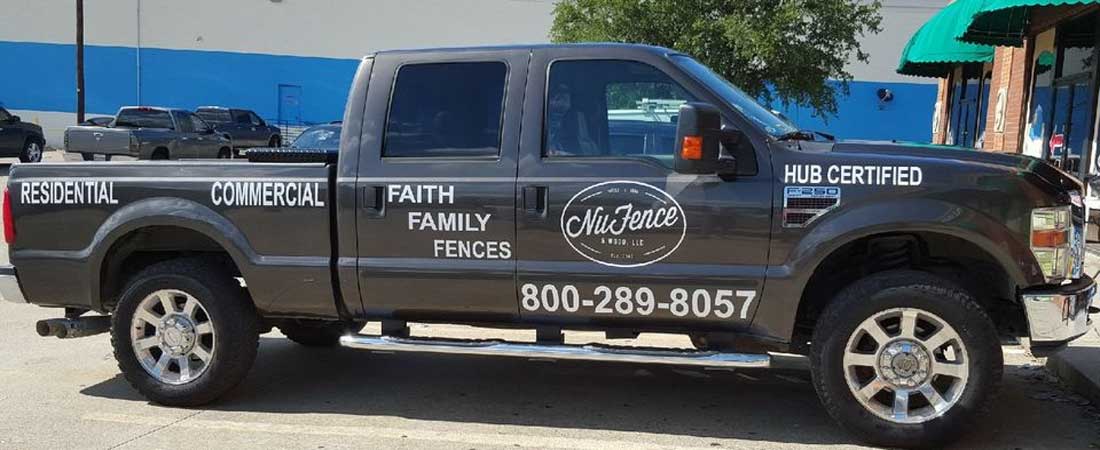 Your satisfaction is the measure of our success. NU Fencing is Fort Worth's premier fencing contractor. We are proud to offer you the highest quality of services, including:
Free estimates
Multiple fencing options, types, and styles.
Quality, professional installations.
Fully licensed and insured professionals.
100% American-made products and materials.
WHAT FENCE IS RIGHT FOR ME?
We have the fence types and styles you are searching for:
a) Aluminum: Our #1 seller! Enjoy the appearance of wrought iron with the benefits of maintenance-free aluminum.
b) Wrought Iron: Low maintenance and extremely strong and durable, wrought iron will last for decades, providing security and a traditional look.
c) VINYL: Enjoy our maintenance free Vinyl products.  We carry Picket and Privacy styles.
d) CHAIN LINK: We offer residential and commercial in both galvanized or vinyl coated chain link.
e) WOOD: We offer basic to custom wood designs. Nu Fence also offers staining services.
f) GATES: We love custom designing one-of-a-kind entrances that raise the bar.
g) ACCESS CONTROL: We use the latest technology to customize a gate operator system to meet every need.
If you are planning a new commercial development or you want to upgrade existing fencing call 800-289-8057. You can also send us an email at info@nufence.com.