How To Choose The Best Pergola
How To Choose The Best Pergola
A fun summer barbecue under a pergola is a favorite activity of friends.
1. Consider your garden space, your home's architectural style, and the intended use of the pergola before you buy.
2. Pergolas cost between $300 and $10,000 depending on the style and permanence of the structure.
3. You have the option to hire someone to build you a pergola or build it yourself.
4. Pergolas are available in many styles, colors, and materials today.
Pergolas are a classic garden structure that has been around for centuries. (The Latin word pergola comes from Latin. Pergola And Refers to "projecting the eaves." A pergola is a structure made of wood, stone, or brick. It typically has four columns or pilasters that support a roof made from flat, spaced planks or squares. It is designed to protect a space from the sun, such as a backyard or walkway. Sometimes pergolas can be attached to buildings or homes. Pergolas can be used to extend the living space of your home, add value to your property, and are decorative elements in your backyard.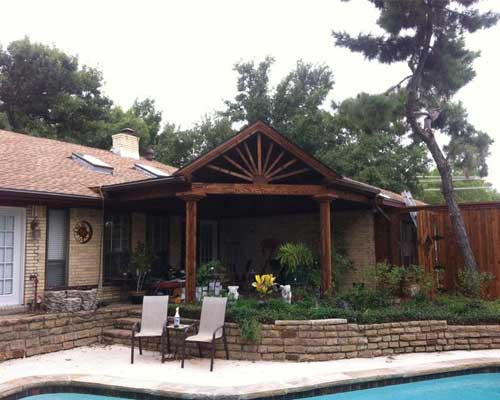 The purpose of your pergola
Before you start looking at pergolas, determine the purpose they will serve. Is it a private space where your family can dine together? A space for entertaining large groups outdoors. Simple structure that shades the plants along your back walkway. You can determine the best size, shape, and materials for your pergola construction once you have decided how to use it.
Consider Construction Materials
Pergolas are available in a wide range of materials. Wood is the most common and traditional, with redwood or cedar being the most popular. Wood has a rustic, warm feel and is a natural material. Wood needs to be stained or painted regularly and sealed against insects and other elements. Pergolas can also be made from different materials like aluminum, vinyl and steel, metal, fiberglass, and cellular PVC. These materials are typically less maintenance than wood and require only a yearly clean. Precast stone or concrete pergolas are the most durable and require minimal maintenance. A pergola can be made with a combination of these materials.
Consider the design of your pergola
When looking at pergolas, there are many design considerations to make. Do you prefer an attached arbor or a standalone pergola? The attached structures look like an extension to your home but may require special permits and additional taxes. A freestanding structure has a particular purpose, such as a bar or dining area. It may also be subject to local regulations or permits.
Choose the amount of shade you want
Traditional slats, which form the pergola's roof, provide greater shade than you may think. You may need more shade depending on where your pergola is located. You can add a rustic, organic touch to your pergola by planting vines that are fast-growing over the roof. This will also provide shade. There are many other options. You can add additional features to your roofs, such as shade cloth, steel panels, and sails. Some of these options may even be remote controlled for maximum convenience.
You might consider Pergola Enhancements
Pergolas can be made to look more elaborate by adding extras. Ceiling fans, TVs or music speakers, heaters, and power outlets are some of the most popular. Floodlights, pendants, and string lights, hanging lights, and chandeliers are also standard.
Take a look at the prices
A simple pergola can be purchased from Amazon, Home Depot, or your local hardware store starting at $300. The standard price range for 2020 is $2,000-$6,000. Large pergolas, custom-made units, and those made from expensive materials can cost $10,000 or more. Once you have decided on an attached pergola or a freestanding one, the fun begins. You can now create anything from a rectangular structure to a more architecturally appealing piece with specific cooking and seating areas, climbing vines, and many other features. Remember that your pergola should match the aesthetic of your yard and home. For example, if you live in a traditional saltbox house, you won't want a modern, sleek steel pergola. Also, consider the size of your home. A considerable pergola will not complement a tiny home if it is too big.