Dreaming of Summer in the Backyard or Patio
Dreaming of Summer in the Backyard or Patio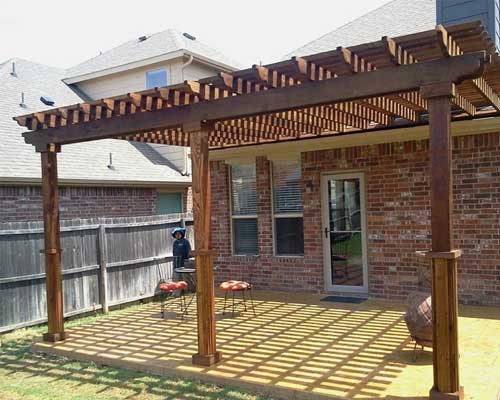 Contact 800-289-8057 for more information. There are so many great outdoor activities you can enjoy in the DFW area during the summer months. From outdoor cookouts and pool parties to relaxing in the backyard hammock, taking in a local outdoor concert, or even going on a nature hike in one of the many nearby state parks, there's something for everyone to enjoy! The possibilities are endless, and the result is a backyard oasis perfect for soaking up the summer sun. The outdoor living trend has been building for the last decade, but it got a major bump during the pandemic.
WEATHER-FRIENDLY STYLE TIPS
1. Create Multiple Seating Areas: Make sure to provide enough seating for your guests in the form of chairs, benches, and even outdoor couches. This will help create multiple seating areas so that everyone can spread out and relax.
2. Shade Solutions: Make sure to provide shade from the sun's rays. Invest in a patio umbrella or a pergola to create a shady spot for your guests.
3. Add Comfort: Make sure to add comfortable seating for your guests. Invest in outdoor cushions or pillows to make your outdoor furniture more inviting.
4. Lighting: Create a warm and inviting atmosphere with outdoor lighting. Invest in string lights, lanterns, and landscape lighting to create a cozy atmosphere.
5. Outdoor Entertainment: Make sure to provide entertainment for your guests. Invest in a fire pit, an outdoor TV, or a music system to entertain your guests.
Pergolas can provide plenty of shade, especially if you choose to cover the top of the structure. Pergolas Patio Covers and Outdoor Living Spaces are all great ways to enjoy the summer in the DFW area. You can create an outdoor oasis with an arbor, pergola, or patio cover and then add outdoor furniture, grills, and fire pits to complete the look. You can also add outdoor lighting and outdoor speakers for an even more enjoyable experience.
Deck Installation and Patio Construction
While there is really no best time to make small-scale updates to a deck, the changing of seasons is close. There are many great options for deck installation and patio construction in the DFW area to help you create the perfect outdoor oasis. From traditional wood decks to composite decks and patios made from pavers, there are plenty of options to choose from. A professional contractor can help you design and build the perfect outdoor space for your needs and budget.
Fence Installation
We specialize in all types of fence installation, including wood, chain link, vinyl, and aluminum. We work with residential, commercial, and industrial clients to ensure that their fencing needs are met. Our experienced team of professionals will go above and beyond to make sure that your fence is installed to the highest quality standards. We provide competitive pricing and always strive to provide a superior customer experience. Contact us today to learn more about our fence installation services.
PATIO DECKS
Whether you are looking to host family and friends outside your DFW home or want to create a quiet retreat for your family, with a few smart design home improvement ideas, you can transform your outdoor patio into an outdoor oasis that is uniquely yours.
Patio decks are a great way to extend your living space and provide a wonderful area for entertaining guests or relaxing with friends and family. There are many different styles and sizes of decks available, so it is important to choose one that best suits your needs and the style of your home. The most common materials used for patio decks are wood and composite materials, but there are also metal, plastic, and stone options available. When choosing a deck, it is important to consider the amount of space you have available, the size and shape of the deck, and the type of materials used. It is also important to consider the maintenance required for the materials used. Wood decks require regular maintenance, such as staining and sealing, while composite materials require less maintenance.
Wood Garage Doors
Garage doors have come a long way in design and use since they were first invented to shelter the early cars coming on the scene in the early 1900s. Custom Wood garage doors are the most popular type of garage door on the market. They provide a classic look that is both timeless and warm. If you're looking for a custom option, there are a variety of wood garage door styles to choose from, including carriage house, traditional, and contemporary. Custom wood garage doors can be made to fit any size or shape of your garage opening and can be stained or painted to suit your home's aesthetic. They can also be enhanced with decorative hardware and unique panel designs.
If you are planning a new commercial development or you want to upgrade existing fencing call 800-289-8057. You can also send us an email at info@nufence.com.