7 Reasons to Hire Professional Fencing Contractors
7 Reasons to Hire Professional Fencing Contractors
Affordable Fencing Solutions | Call 800-289-8057  Get customer service that's second to none at DFW Dallas & Fort Worth areas Fence Company. From repair work and fence gate installation to construction fence repair and commercial fencing, we do it all. Count on our years of experience as a top FT Worth TX fencing company to install or repair your fence, so it lasts for years. We use eco-friendly processes and only the highest-quality fencing products.
From the initial sale to the fence installation and service, we strive for your complete satisfaction, so you'll be proud to recommend us to your friends and family.  Our DFW fencing company proudly serves Dallas, Fort Worth surrounding areas. A fence of high quality adds value to any commercial or residential property. Nothing is better than having more peace of mind while increasing the property's aesthetic appeal. Protecting your home and business will be wise, regardless of whether you are looking for an aluminum or a horizontal wooden fence.
Some people try DIY fencing installation to add a fence to your property. DIY can prove costly, time-consuming, and dangerous if you don't understand what you're doing. Don't risk your wallet or well-being by DIYing. Get a fence installed by trusted local pros.
Tips and Advice
After deciding that your property requires a fence, you can ask fencing contractors for their advice about the best materials, location, height, and other details. Fencing contractors help you choose the right fence for you, regardless of whether you don't know what type you want or your preferences.
Tools for Every Job
Professional contractors can use commercial-grade equipment and tools. Do you have everything you need to build your fence?
Time For Your Fencing Project
A big reason busy homeowners and commercial property managers should hire a fencing company to make their fences look and function the way they want. You don't have to do it all at once. Instead, hire professionals who can set up your fence in days or hours.
Legal Knowledge
Professional fencing contractors are also available to help with paperwork. You may not realize fencing installation requires a lot of paperwork and bureaucratic research. To build a fence, you must know about building permits, zoning laws, and more. You don't have to worry about the fencing regulations in your place.
Budget Mindfulness
Homeowners often spend too much on DIY home improvements because they don't know how to budget for materials and the amount of time, energy, or supplies they will use. The installation team will guide you through each step, from planning your fence with your budget to estimating the cost of everything. You can now focus on your business or home while saving money.
Years of Experience
The best reason to hire professional fencing contractors is their experience in fencing installation. Fencing contractors are familiar with all aspects of fencing installation, including terrain, weather conditions, and location. You can be confident in the quality of your fence
because of this valuable experience.
Custom Fencing Design & Installation in Ft Worth, TX
DFW Dallas – Fort Worth Fence Company, can fabricate anything you need for your fence. We understand that no two bars are the same, and every location has its unique features and challenges.
​Solving Your Fencing Challenges
Our customers have given us some challenging projects over the years. Through innovative designs and engineering, we have established ourselves as the go-to company for custom fence installation. With the latest in computer drafting and traditional design methods, we use the best products in the industry to give you a quality fence that will stand the test of time. Contact us today for a FREE estimate.
​DFW Dallas – Fort Worth Fence | Installation FAQ
Do you need a permit to install a fence in DFW Dallas – Fort Worth ?
​You usually do not need a construction permit to install a chain-link, wood, or masonry (brick) fence that's less than 6 ft. in height, but some areas of the city with rules about fence styles and location. You should check deeds and property lines to make sure your fence is installed in the right place.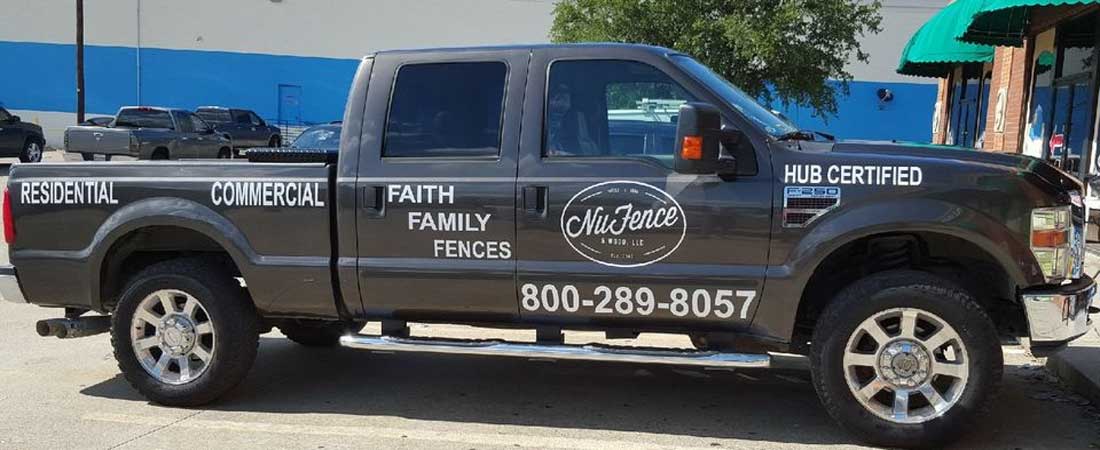 WHICH FENCING MATERIAL IS BEST FOR YOU?
1. Wood Fence – Pros: Traditional look, great for privacy, an endless variety of color choices; Cons: Maintenance such as painting or staining, the price for materials.
2. Aluminum Fence – Pros: Low maintenance, comparatively inexpensive, versatile, and durable; Cons: Lacks privacy, comparatively weaker for security purposes.
3. Chain Link Fence – Pros: Affordable, low maintenance, keeps kids and pets in; Cons: Less secure, lacks privacy, less aesthetically pleasing.
4. Vinyl PVC Fence – Pros: Long life, not affected by pests or rot, low maintenance, easy installation; Cons: Less strong than wood or chain link, less secure since pieces aren't attached by nails or screws, may crack or break in extreme heat.
FENCING MATERIAL SUPPLY IN DFW DALLAS – FORT WORTH
Quality Fencing Materials in DFW Dallas – Fort Worth, TX
DFW Dallas – Fort Worth Fence Company can order the supplies you need for your fence. We deliver materials for all sizes of projects. Whether a do-it-yourselfer or a contractor, we will get you the supplies and materials you need, chain link, wood, vinyl, or iron fencing.
Retail Fencing in DFW Dallas – Fort Worth, TX
We feature a large stock of components on-site and can order any specific item if you need something we don't have. We can drop off your materials right at the job site! Contact us today to order the supplies you need for your fencing project. Order the best wood, vinyl, iron, chain link & aluminum fencing DFW Dallas – Our Fort Worth fence contractors have to offer! Call 800-289-8057.
Fence Installation & Building Materials:  Wood Fencing | Vinyl Fencing | Iron Fencing | Chain Link Fencing
Fencing Services:  Construction Fence Rental | Automated Gates | Custom Fencing Work | Fencing Material
If you are planning a new commercial development or you want to upgrade existing fencing call 800-289-8057. You can also send us an email at info@nufence.com.